ICDC Delegation to ERA Nicosia 2019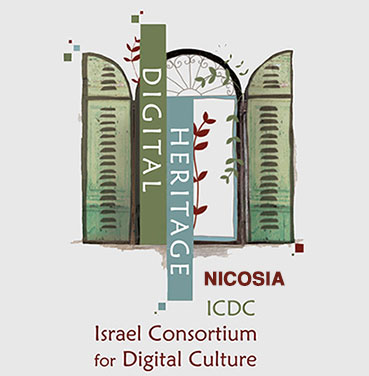 ---
Dr. Susan Hazan, Head of the ICDC Delegation



Dr. Hazan is Director of Digital Heritage, Israel and leads the Israeli delegation. Susan is Senior Curator of New Media and Head of the Internet Office at the Israel Museum, Jerusalem, identifying, visualising and implementing, digital media solutions for the museum; educational projects, digital curation, development of visitor centers, information kiosks, comprehensive, multi-lingual museum web site, and program development of teaching lab. Notable projects include the Digital Dead Sea Scrolls project in cooperation with Google, which received over one million unique users when it was launched, Visualising Isaiah, and the robotic hospital outreach project.

Her Masters, and PhD research at Goldsmiths College, University of London in Media and Communications focused on electronic architectures in the contemporary museum.
Homepage

---
Dina Grossman



Director of Eretz Hefetz project, Yad Ben Zvi – Jerusalem
The Eretz Hefetz project goal is to create a central portal for private museums and collections, making the information and knowledge they hold accessible to the public at large.
Mapping of private museums and collections in Israel

Develop tools for the recording and cataloging of collections to ensure the preservation of heritage treasures for present and future generations.

Developing web based collection management software

Establish guidelines for cataloging heritage objects

Guide and support private museums in the process of registering their collections

Build a website to house all information re private museums in Israel and to provide online forums for them

Manage project budget, hire all in-house and freelance project personnel

Promote awareness of Heritage treasures among the general public
---
Prof. Michal Bar-Asher Siegal


The Goldstein-Goren Department of Jewish Thought
Ben-Gurion University of the Negev
Elected member of the Israel Young Academy of Sciences
Scholar of rabbinic Judaism and Jewish-Christian interactions in Late Antiquity
Member of the Israel Young Academy executive board, and the committee to promote humanities. As part of our activities we head the National Digital humanities Forum, and several projects in the field.
Homepage

---
Nava Kessler - Chair, ICOM Israel



Chair, ICOM Israel
Role - Digitization of Museums in Israel


---



Dr. Nirit Shalev-Khalifa




Curator, Director of the Visual History Exhibitions and Documentation Department,
Yad Ben Zvi, Jerusalem
Israel revealed to the eye
Eretz Hefetz "Heritage treasures"


---
Prof Tsvi Kuflik



Professor of Information Systems
Co-chair of the Digital Humanities BSc program
Information Systems department, The University of Haifa

Tsvi Kuflik is a professor of information systems, the head of the Digital Humanities B.Sc. program at (together with Dr. Moshe Lavee) and former head of the Information Systems Department at the University of Haifa, Israel. His main areas of research are Ubiquitous User Modelling and Intelligent User Interfaces. For more than fifteen years Tsvi is leading a research group at the University of Haifa, focusing on "Active Museum" – applying novel computing and communication technology for supporting museum visitors. Previously he was a researcher at the scientific and technological research institution in Trento Italy. Prior to that, Tsvi coordinated an industrial consortium that developed and implemented software reuse methodology. In addition, he worked and consulted in several industrial companies, in areas of personalization and also software quality assurance. Prof. Kuflik is the author of over 250 referred publications in journals and conferences and in addition to being a co-organizer of the series of PACTH (Personal Access To Cultural Heritage) workshops during the past ten years, has been the general chair, program chair and organizer of various international conferences and workshops. He is a distinguished ACM scientist and IEEE senior member.
Homepage

---
Dr. Anna Lobovikov-Katz



PhD Architecture - Heritage Preservation
Teaching Fellow - Senior Lecturer, NB Academic School of Design - WIZO Haifa
Haifa and Technion - Israel Institute of Technology
Anna Lobovikov-Katz (Architect, PhD.), leader and participant of EU research projects; over 20 years of interdisciplinary research in Conservation of Cultural Heritage (CCH), heritage education, e-learning; author and teacher of methodologies (e.g. RALEMEFS) in wide spectrum of visual disciplines (descriptive geometry, perspective, freehand drawing, painting) as applicable to CCH, arts, architecture, design, STEM and research. Educated at the Academy of Arts and the State University of Architecture, St. Petersburg; MSc, PhD - Technion (Israel Institute of Technology); awarded international prizes in research; chaired and organized international CCH symposia; member of scientific committees; authored scientific publications; gave invited lectures and university seminars in Europe and America; received international awards in fine arts and exhibited paintings at solo and juried exhibitions and museums in France, Israel, Italy, USA. Her students' arts and CCH works exhibited in Israel, Italy, Spain
Homepage


---
Dr. Moshe Lavee



Talmud and Midrash , Department of Jewish History
eLijah-Lab, director; BSc in Digital Humanities, co-director.
The University of Haifa
Homepage
---
Hadar Miller



Former Chief Information Officer at the National Library of Israel (years 2012-2017).
Currently
Head of technology at the Israeli Films Archive (Jerusalem Cinematheque)
Head of new digital website, the Dead Sea Scrolls (Israeli Antiques Authority)
Head of Technology

---
Ariel Reitner


Digital Projects Manager
Ministry of Jerusalem and Heritage